There are 123 professional sports teams across the NFL, MLB, NBA and NHL. The Dallas Cowboys are worth an estimated 1.5 billion dollars - ranking #1 - and the Nashville Predators are the least valuable team at $143 million. Some very interesting takeaways came from digging into the data: - The average NFL franchise is valued at $960 million. MLB's average is $475. The NBA average is $375. And NHL's average is $200.
- One way is to read this is that the NFL is worth more than Major League Baseball plus the National Basketball Association... amazing.
- The New York Yankees are the only non-NFL franchise in the top 27. The Mets, Red Sox and Dodgers are the only other MLB franchises in the top 40.
- In the NBA, the New York Knicks are the most valuable franchise despite being horrendous for the last several years... proof that market size and hometown are the key influencer. The top four teams (Knicks, Lakers, Bulls and Pistons) are four of the most storied, winning franchises.
- Baseball has the biggest disparity from top to bottom while the NFL - a league known for its parity - is pretty flat... so the least valuable team, the Atlanta Falcons, can still be competitive. This is also interesting because the Falcons have fallen terribly after losing Michael Vick - one of the league's most marketable players.
- The Toronto Maple Leafs are the most valuable NHL franchise and rank 57th overall at $413 million. That's over two times the league average.
- The Boston Red Sox, Celtics and Bruins are worth 1.45 billion combined... less than the Dallas Cowboys.
The 50 Most Valuable Sports Franchises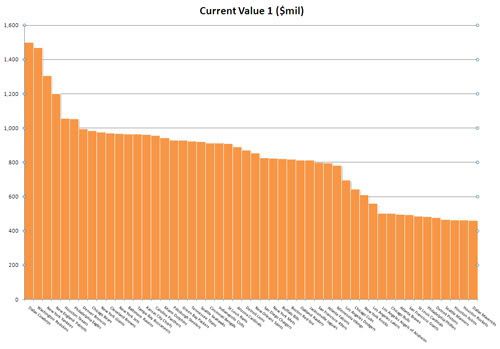 Rank Team Current Value 1 ($mil) 1 Dallas Cowboys 1,500 2 Washington Redskins 1,467 3 New York Yankees 1,306 4 New England Patriots 1,199 5 Houston Texans 1,056 6 Philadelphia Eagles 1,052 7 Denver Broncos 994 8 Chicago Bears 984 9 New York Giants 974 10 Cleveland Browns 969 11 New York Jets 967 12 Baltimore Ravens 965 13 Tampa Bay Buccaneers 963 14 Kansas City Chiefs 960 15 Carolina Panthers 956 16 Miami Dolphins 942 17 Pittsburgh Steelers 929 18 Green Bay Packers 927 19 Tennessee Titans 922 20 Seattle Seahawks 921 21 Cincinnati Bengals 912 22 Indianapolis Colts 911 23 St Louis Rams 908 24 Arizona Cardinals 888 25 Detroit Lions 870 26 New Orleans Saints 854 27 San Diego Chargers 826 28 New York Mets 824 29 Buffalo Bills 821 30 Boston Red Sox 816 31 Oakland Raiders 812 32 Jacksonville Jaguars 811 33 San Francisco 49ers 799 34 Atlanta Falcons 796 35 Minnesota Vikings 782 36 Los Angeles Dodgers 694 37 Chicago Cubs 642 38 New York Knicks 608 39 Los Angeles Lakers 560 40 Los Angeles Angels of Anaheim 500 41 Chicago Bulls 500 42 Atlanta Braves 497 43 San Francisco Giants 494 44 St Louis Cardinals 484 45 Philadelphia Phillies 481 46 Detroit Pistons 477 47 Seattle Mariners 466 48 Houston Astros 463 49 Houston Rockets 462 50 Dallas Mavericks 461
The NBA's Most Valuable Teams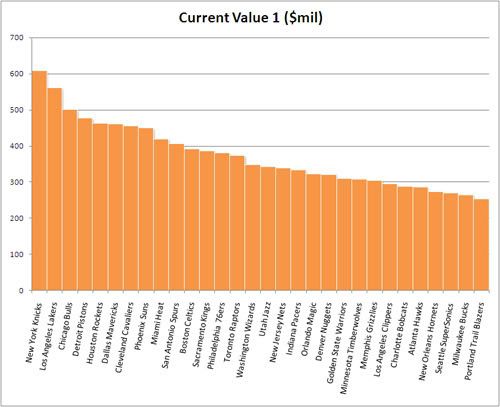 The NFL's Most Valuable Teams
The MLB's Most Valuable Teams