In the last few weeks, the economics of Major League Baseball (MLB) has been rewritten in a way that would make Money Ball's Billy Beane proud. MLB has seen an influx of very talented, very young players (under 27) - and general managers are forced to ask themselves whether to lock them up to big contracts now... or have them hit the open market and potentially sign far bigger deals. The players are forced to ask themselves whether to sign long-term contracts now or continue earning minimum level salaries ($100,000s / yr) until they hit the open market. It's a fascinating time for baseball.
Just a few months ago, a flurry of massive free agent deals were signed: Alex Rodriguez (32 years old): $275m / 10 years Mariano Rivera (38): $45m / 3 Mike Lowell (34): $37.5m / 3 Jose Guillen (32): $32m / 3 Francisco Corderro (33): $46m / 4 Aaron Rowand (30): $60m / 5 Torii Hunter (32): $90m / 5 Jorge Posada (36): $52m / 4
These are all enormous deals for players that will likely decline noticeably towards the end of the contracts. So while the numbers might make sense for the first part of the contract, I assure you that Jorge Posada will not be worth $13m / year when he's 39 or 40. But when a talented player hits the open market, the bidding puts *everything* in his control. Just ask Johnny Damon, Eric Gagne, Barry Zito and others...
So four teams from four non-major markets have started a new economic wave by signing their own talent to long-terms deals that are favorable for both the player and the team. The Milwaukee Brewers, Colorado Rockies, Florida Marlins and Tampa Bay Rays ALL say their talent leave to major market teams able to pay their players major dollars. To protect themselves, they paid their players handsomely (but far less than the average open-market contract) but locked them into long deals with team options for an additional 1-3 years. Those players are all in their young 20s and have yet to hit a major payday (despite making $100,000s / year). So the clubs are able to secure the future at reasonable rates (should these players be even close to top talent) and the players are able to land deals that will pay them very well... and potentially still enable them to hit the open market and fetch the big dollars:
Player Total Contract Contract / Year Age Years Ryan Braun, LF $45,000,000 $5,625,000 24 8 Hanley Ramirez,SS $70,000,000 $11,666,667 25 6 Troy Tulowitzki, SS $31,000,000 $5,166,667 24 6 Evan Longoria, 3B $17,500,000 $2,916,667 23 6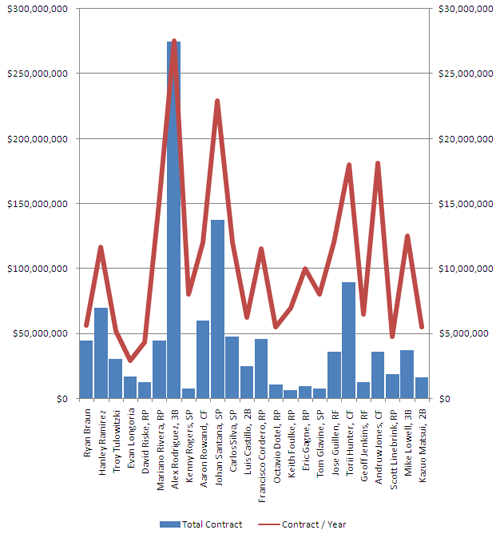 And soon enough you'll see the Red Sox do the same with Papelbon, Pedroia, Jon Lester, Bucholtz, and Ellsbury. The Yankees will sign Joba Chamberlain, Phil Hughes, and Ian Kennedy (they already signed Robinson Cano). The Mets have tied up Jose Reyes and David Wright.
Even big-market teams like the Red Sox, Mets, Yankees, Tigers, etc understand that you'd rather gamble on upside than on downside... especially when signing people on the downturn of their career can be more expensive.
And it hasn't been proven that it's easier to predict success for veteran players. A couple examples based on recent memory:
- Johnny Damon and Pedro Martinez were signed to long contracts by the Yankees and Mets respectively. Neither played as well as their Red Sox days nor has remained healthy (both are aging as well).
- Andruw Jones signed a monster contract with the Dodgers this year ($36m / 2 years). He's been horrible.
- Eric Gagne got $10m this season after hitting the open market. He leads baseball in blown saves and has relinquished his role as closer.
- Jorge Posada got big money and a four year contract from the Yankees. He's spent most of the year on the DL - and I can't imagine it will get better as he approaches 40.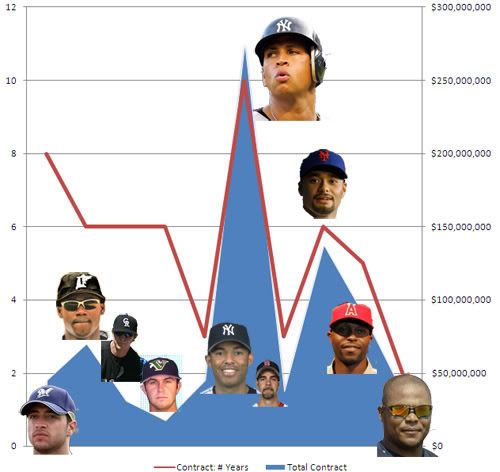 Player Total Contract Contract / Year Age Years Ryan Braun, LF $45,000,000 $5,625,000 24 8 Hanley Ramirez,SS $70,000,000 $11,666,667 25 6 Troy Tulowitzki, SS $31,000,000 $5,166,667 24 6 Evan Longoria, 3B $17,500,000 $2,916,667 23 6 David Riske, RP $13,000,000 $4,333,333 31 3 Mariano Rivera, RP $45,000,000 $15,000,000 38 3 Alex Rodriguez, 3B $275,000,000 $27,500,000 32 10 Kenny Rogers, SP $8,000,000 $8,000,000 43 1 Aaron Rowand, CF $60,000,000 $12,000,000 30 5 Johan Santana, SP $137,500,000 $22,916,667 29 6 Carlos Silva, SP $48,000,000 $12,000,000 29 4 Luis Castillo, 2B $25,000,000 $6,250,000 32 4 Francisco Cordero, RP $46,000,000 $11,500,000 33 4 Octavio Dotel, RP $11,000,000 $5,500,000 34 2 Keith Foulke, RP $7,000,000 $7,000,000 35 1 Eric Gagne, RP $10,000,000 $10,000,000 32 1 Tom Glavine, SP $8,000,000 $8,000,000 42 1 Jose Guillen, RF $36,000,000 $12,000,000 32 3 Torii Hunter, CF $90,000,000 $18,000,000 32 5 Geoff Jenkins, RF $13,000,000 $6,500,000 33 2 Andruw Jones, CF $36,200,000 $18,100,000 31 2 Scott Linebrink, RP $19,000,000 $4,750,000 31 4 Mike Lowell, 3B $37,500,000 $12,500,000 34 3 Kazuo Matsui, 2B $16,500,000 $5,500,000 32 3