On Monday May 19th, Google notified AdSense publishers that they are now accepting 3rd party image and rich-media ads... a potentially significant upgrade considering that Google's image and video inventory is very weak as compared to traditional text ads. This is makes sense considering that it is magnitudes more difficult to produce video units than it is to produce graphical units; and the same can be said for graphical vs. text units. But it is in the publisher's best interest to have strong inventory in image and video ads:
- they usually have better EPCs / ECPMs. In a 728 x 90 unit, for instance, Google requires the graphical unit to out-value all of the text ads that would appear in its place.
- Simply put: Graphical and Rich-Media units are classier. I feel a lot better when branded ad units run on my site. It looks more professional, conveys credibility and seems to translate into increased CTRs.
But Google's inventory to-date has been quite poor. That's why the below news is exciting. It's difficult to determine how much new inventory has been flighted and what the change in value / revenue is... but it is apparent that new units are running and that they look far more professional. Additionally, without making any other changes to the site, my AdSense units have seen a 2x improvement in click-through-rates. As Google continues to strengthen their ad inventory and as the DoubleClick integration progresses, I expect continued improvements.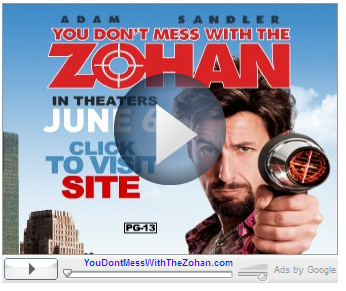 Greetings from Google!

We're happy to announce that the Google content network now accepts display ads served from qualified third-party vendors. During this initial release, only ads in English are eligible, although we look forward to offering more options in the future.

By accepting third-party ads, we can attract a greater variety of advertising on the Google content network, which we believe will result over time in increased revenue for publishers and more relevant advertising for end users.

If you're currently opted in to image ads, you're already able to receive third-party ads. If not, you can enable image ads to start receiving third-party ads immediately. (Learn how to enable image ads at https://www.google.com/adsense/support/bin/answer.py?answer=9741.)

If you choose to allow third-party ads on your site, please update your privacy policy to inform your visitors that third-party vendors may serve ads on your site. Please also provide links to these vendor websites and inform your users that they may opt out of cookies (if the vendor offers this capability). For more information about updating your policies, visit https://www.google.com/adsense/support/bin/answer.py?answer=94150.

You'll continue to have full control over which ads appear on your site with tools like competitive ad filtering and the Ad Review Center. Also, only advertisers with whom we have proven relationships and who've clearly demonstrated commitments to our quality standards may participate in this program. Our policies governing ad content and formatting remain unchanged.

To learn more about third-party ads, please visit our blog post at http://adsense.blogspot.com/2008/05/introducing-third-party-ads-on-google.html and our FAQ at https://www.google.com/adsense/support/bin/topic.py?topic=14535. If you have any questions or feedback, feel free to contact us at adsense-support@google.com.

Sincerely,

The Google AdSense Team

Google Inc. 1600 Amphitheatre Parkway Mountain View, CA 94043